Nollywood Spotlight: Falz
352 views April 18, 2018 8:30 AM
Image above: Gistend.ng
Our Nollywood Spotlight this week is on Folarin Falana, better known as Falz! As a rapper, actor and all-around entertainer, his talent is undeniable. Let's take a closer look at the man behind 'Falz The Bahd Guy'!
Falz was born on October 27, 1990, in Lagos State. The son of prominent lawyers and political activists, Femi and Funmi Falana, Falz was a born entertainer. While attending Olashore Secondary School he formed a musical/comedy group called The School Boys with his friends where they would regularly perform in front of their classmates. The School Boys would watch "Night of a Thousand Laughs" for inspiration and crack their audiences up during break time the following day. In 2009, while still at high school, he released a mixtape of his own called Shakara: The Mixtape. It was at this point that Falz began to develop into the man we all know so well today - 'Falz the Bahd Guy'.
Falz's outgoing, comedic image is very different from his true personality. He is actually shy, quiet and very thoughtful in reality and, as many of you may know already, he started his career as a lawyer. Despite rumours to the contrary, he was not forced by his parents into following in their footsteps. Since he grew up with a mother and father who not only practised law, but were renowned for their activism, he was inspired to continue in the same field.
He graduated from the University of Reading, in the South of England, with
an LLB
Honors Degree in Law and went on to pass the Nigerian Bar.
After practising for 2 years, Falz decided to dedicate more focus towards his musical career. To this day, he says that his experience in law still helps him. He says that his law studies help him to think analytically and he is still vocal about social issues - just like his parents.
Image: TheNET.ng
So, the Falz we know and love today really kicked off his career in 2011 when he released the singles Wazup Guy, High Class and Currency. He followed up these successes with his 2014 album Wazup Guy, which was a smash hit with audiences. From there on out, Falz was unstoppable! He went on to release hit after hit and two more albums - Stories That Touch and 27. His appeal lies in his ability to not only create massively catchy tunes but also the fact that he doesn't take himself too seriously. He raps mainly in English (in a faux Yoruba accent), but also uses Pidgin, French, Yoruba, and Swahili in his music.
Although Falz is best known for his music, we have also seen glimpses of his talent in front of the camera. In 2014, he started began doing short skits and posting them on YouTube and Instagram. They went viral and he has since received offers for movie roles, which had been a dream come true for this natural entertainer.
His acting debut came in 2015 when he landed a role as "Segun" in Funke Akindele's wildly popular series "Jenifa's Diaries". Since then, he has bagged several other movie roles, including 2016's "Couple of Days", last year's "Muna" and the hilarious "10 Days in Sun City". Most recently, he can be seen in "New Money", which is currently showing in select cinemas throughout Nigeria.
As if that is not enough, he combined his musical and acting talent in the incredible "
Falz Experience: The Movie
", which hit cinemas for a limited time last month. The movie showcases Falz's hit concert at the end of 2017 and shows him in various roles throughout, including a waiter, a preacher and a lawyer.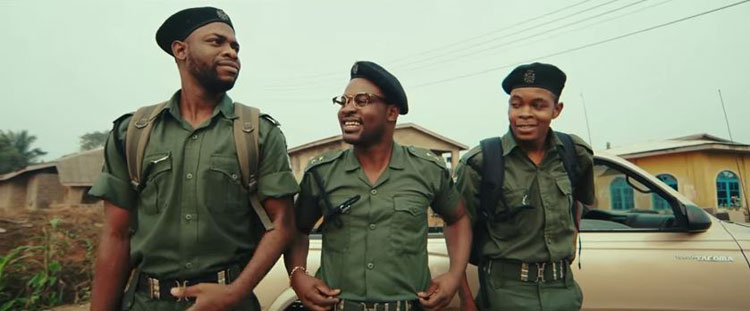 Image: Verastic
Over the years, he has been nominated for numerous awards. Falz won the Best Afro Hip-Hop Video at the Nigeria Music Video Awards, Album of the Year (for Stories That Touch) at the City People Entertainment Awards, Viewer's Choice Best New International Act at the BET Awards and Best Actor in a Comedy Movie/Series at the Africa Magic Viewers Choice Awards, all in 2016!
Although his career demands him to be in the limelight more often than not, Falz is a very private person who seldom shares information about his personal life. He is consistently creating and believes that if you are passionate about your work, you will always be successful - well, this has certainly worked for him! If his past work is anything to go by, we can expect to see much more from Falz in the future, hopefully on the big screen as well as on the charts.
"
New Money
" is still showing in select cinemas across Nigeria and let us know what you think in the comments!
Here are some fun facts about Falz:
He is still licensed to practise law - that's right, he could be your barrister!
He believes a good education is crucial for success.
He was just 19 when he released his first mixtape.
He is the owner and CEO of Bahd Guys Records.
He has collaborated with Yemi Alade, Simi, Poe, Reekado Banks and Phyno in his music.
He was on tooXclusive's 'Artistes to watch list in 2014.
'Falz the Bad Guy' is a combination of 'Falz', a shortened version of his last name, Falana, and 'BAHD' which stands for 'Brilliant and Highly Distinct'.
He has an alter ego who he calls Brother Taju, which helps him to deal with his shyness on stage.
His name for his genre of music is 'Wazup Music'.
He can't swim.
He almost died in 2013 by getting caught in the crossfire of an armed robbery while driving with friends.
He can't eat rice with a fork.
He prefers to spend time by himself rather than with others.
He met the legendary Fela Kuti as a young child.