Nigerian Shorts: Our Top Picks
260 views October 17, 2017 10:00 AM
Image: Script Magazine
Written by: Karen Cryer
A genre which has been growing for several years now in Nollywood is short movies. Often artfully shot and conveying a strong message, these movies are coming to the forefront of Nigerian cinema.
So, we've come up with a list of our favourite shorts to give you a taste of what's out there!
First, let's go back several years to 2013. Director Iquo B.Essien releases "Aissa's Story", which tells the harrowing tale of an immigrant housekeeper who is sexually assaulted by a wealthy, powerful man is a narrative that will always ring true. Jennifer Tchiakpe gives an exceptional performance in this short, illustrating the struggle between rich and poor, strong and weak.
Directed by Ifeoma Nkiruka Chukwuogo, "Bariga Sugar" (2016) follows 8-year-old Ese (Halimat Olarewaju), whose mother is a prostitute in a brothel. Living in this brutal world is lonely; other children tease Ese and her only companion is a plastic doll...until a new neighbour, Jamil (Tunde Azeez), arrives. The pair strike up a friendship and Ese's world brightens. However, the harsh reality of life in the brothel wins in the end. This beautiful story of friendship, loss, and innocence will pull at your heartstrings and stay with you for a very long time.
Image: womenofrubies.com
Another fantastic short is "Big Man" (2012), directed by Julius Onah. Uzoma, in typical older brother fashion, enjoys tormenting young Chize. However, enjoying his power over his younger sibling, his games lead to dangerous outcomes. Michael Asuelime and Adekunle Adeleke stun with their incredible portrayal of the cruelty and naivety of childhood. "Big Man" is an extremely powerful film that truly packs a punch.
Now, let's talk about a new, award-winning short called "Through Her Eyes" (2017), which bring the spotlight onto the topic of child trafficking and suicide bombing. Directed by Nadine Ibrahim, this film follows Azeeza (Aisha Anisah Ayagi), a young girl who takes a cab ride to a nearby village. As her journey progresses, we are given glimpses into what has happened to her and clues about her destination. A bond between her and the cab driver (Ibrahim Daddy) is formed, which we really only understand at the very end. A topic which resonates strongly with what is going on the world today, "Through Her Eyes" is deserving of all the critical acclaim that it receives.
Looking back on our list, it seems the topics are quite heavy! Don't worry, if you're looking for something more light-hearted, here's something for you - "Quacks" by Abba Makama, which is the hilarious story of a group of Nigerian elites who come together to discuss the state of their country.
The question throughout the movie is whether they will succeed in overthrowing the current regime and, more to the point, do they even care? Mixing real footage of the 2012 protests in Nigeria with the discussion of the "Quacks"(2013), Makama depicts this very real political issue with spot-on, tongue-in-cheek humour.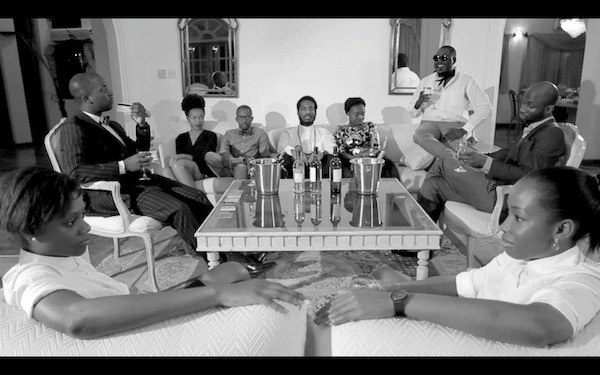 Image: OkayAfrica.com
Are there any that we missed? If so, let us know in the comments plus which from this list are your favourites!