Freshly Fried - May 11, 2018
85 views May 11, 2018 1:00 PM
image above: ChichiLicious.com

Let's talk about what's freshly fried this week in the entertainment world! Here's our "Fryday" fry up:
Hollywood News
It's official: Bill and Ted are Coming Back!
Rumours have been swirling recently about a reboot of the popular comedy franchise, but now it's been confirmed. Last week, at the Cannes Film Festival, Keanu Reeves and Alex Winter announced that they will be re-uniting once again on the big screen in "Bill & Ted Face the Music".
This time, the pair are older (perhaps wiser?) and are still yet to fulfil their destiny; this time their daughters will be joining their time travel adventures...Excellent!
The movie is in pre-production so it's still early days, but stay tuned for more updates!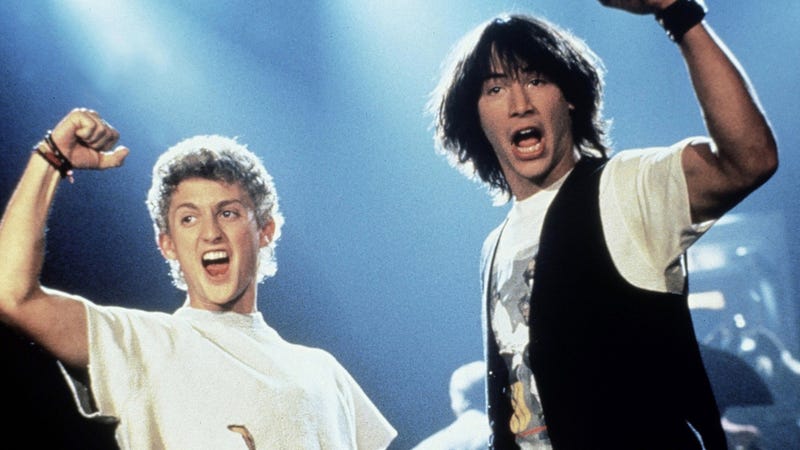 image: io9 - Gizmodo
"Bad Boys for Life" has Release Date
Another popular duo will also be back in cinemas - Will Smith and Martin Lawrence, our favourite 'bad boys' will return in everyone's favourite buddy cop franchise in January 2020. The third part, titled "Bad Boys for Life" is set to be directed by Adil El Arbi and Bilal Fallah.
No news on the synopsis yet, but we'll keep you posted! Judging by the success of the first two "Bad Boys" flicks, this is sure to be a blockbuster.
Remake of "Superfly" Out Next Month
The original "Superfly" was way back in 1972 - now, Director X has created a slick remake of the blaxploitation classic.
Trevor Jackson stars as a cocaine dealer wanting to make one last sale in this action-packed crime drama.
Also starring Jason Mitchell, Lex Scott Davis, Andrea Londo and Jacob Ming-Trent, "Superfly" will be in select cinemas from June 15.
Check out the trailer and let us know what you think in the comments!
Nollywood News
"Crazy People", Starring Ramsey Noah, Released Next Week
Moses Inwang's new comedy, "Crazy People" will be in theatres on May 18!
Starring Ramsey Noah, "Crazy People" follows the story of an actor who is returning to work after a year hiatus. Now he's back in Nollwood, he has a game plan - track down the guy who's been impersonating him!
Starring alongside Noah are the fantastic "Chigul", Sola Sobowale, Ireti Doyle, Monalisa Chinda Desmond Elliot and Kunle Afolayan.
Check out the trailer right here and let us know what you think of " Crazy People" in the comments next Friday, when it debuts in select cinemas across Nigeria!
Chris Ihidero Headlining Writing Masterclass This Month
Filmmaker Chris Idihero will be leading a TV writing masterclass this month. For all of you out there who have stories to tell, want to break into the entertainment industry or simply want to expand your creativity, the Masterclass will be held from May 28 to June 1 at the Lagos Film Academy.
Idihero, who has over two decades of experience in the film industry and storytelling, is currently the producer of "Shuga" and head writer of the hit TV shows "Hush" and "Forbidden". As well as Idihero, there will be other revered television writers holding workshops and providing tips on how to write screenplays, create characters and develop scripts.
Kelechi Udegbe to Star in New Documentary Series
"Kelechi's Quest" will star Kulechi Udegbe as he highlights the difficulties faced by low income residents of Lagos as well as seeking living solutions and affordable housing. In the series, he will meet and talk with residents, as well as town planners and city officials.
Directed by Deji Akinpelu, the first episode of "Kelechi's Quest" is out now.